Faith Community & City: Coming Together to Support Older Adults and Persons with Disabilities
In collaboration with the San Francisco Department of Adult & Aging Services, the San Francisco Interfaith Council will host a half-day workshop on Monday, October 16, 2017, at which congregation leaders will share their challenges and needs for ministering to older adults and persons with disabilities, as well as being briefed on how to access important City services available to these vulnerable sectors in their congregations. Link to email here.
UN International Day of Peace Interfaith Service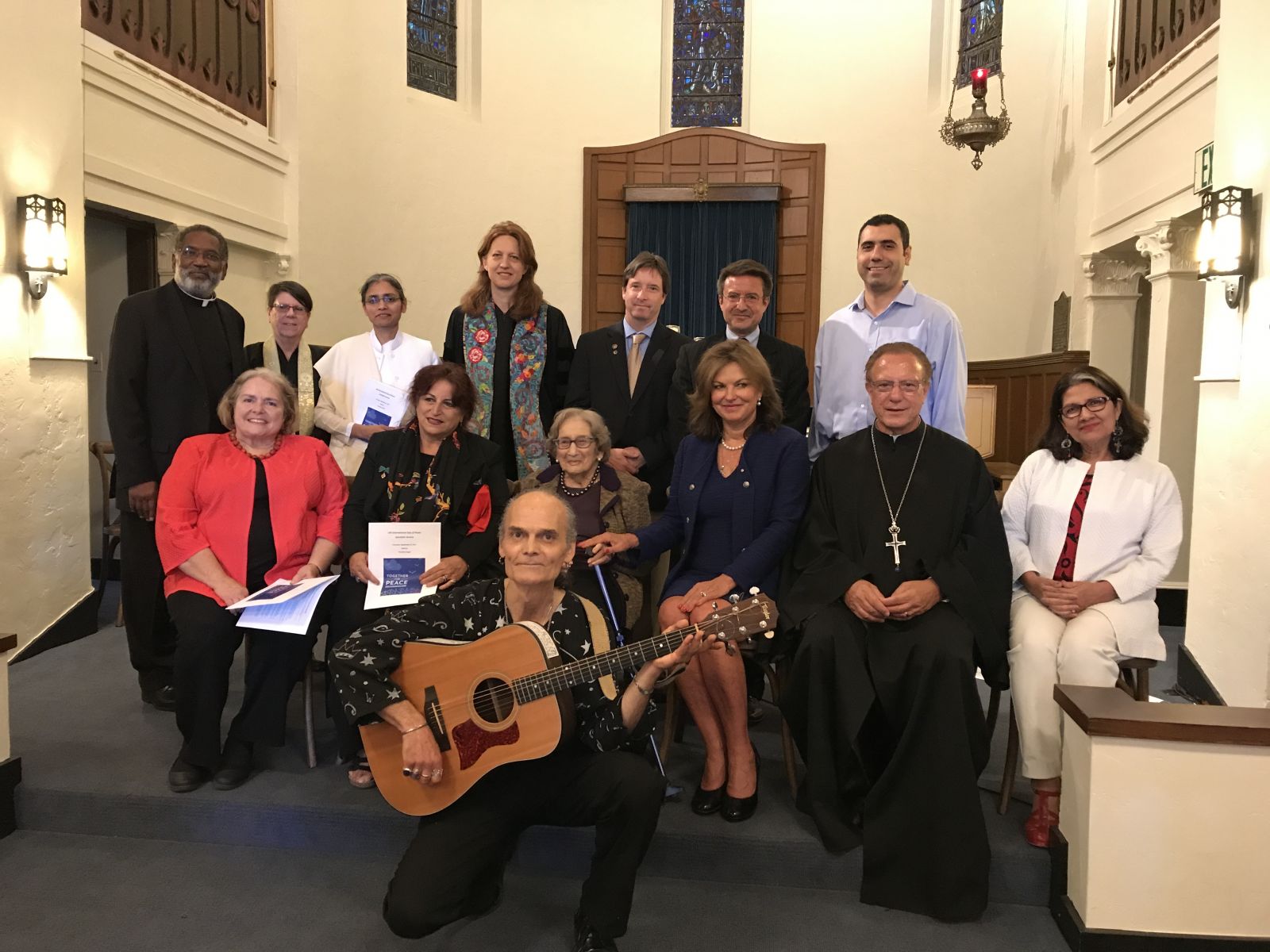 On Thursday, September 21, 2017, the San Francisco Interfaith Council, in collaboration with the Interfaith Center at the Presidio and United Religions Initiative, hosted an Interfaith Service in the Presidio Chapel in observance of the United Nations International Day of Peace. Central to this observance will be a special honor of the 20th anniversary of "Roots of Peace: Mines to Vines" for its tireless efforts to eradicate landmines worldwide. (Program)
SFIC's Role in Civic Response to "Patriot Prayer" Rally
The San Francisco Interfaith Council (SFIC) played a critical role in our City's civic response to the "Patriot Prayer" rally, permitted and scheduled by Federal authorities to take place on August 26, 2017, at San Francisco's Crissy Field. At the outset, SFIC Executive Director Michael Pappas was invited to join SF Mayor Edwin M. Lee, SF Police Department Chief William Scott and Board of Supervisors President London Breed at a briefing, followed by a press conference, that took place at the Mayor's Office on August 15, 2017. The Council then issued a statement entitled "SF Faith Leaders Stand United Against Hate in Charlottesville and Our Back Yard," signed by 53 prominent interfaith partners. Pappas was also invited to be part of a special briefing for federal, state and local law enforcement, as well as related departments and agencies, at the SF Department of Emergency Management's Incident Command Center. Additionally, the SFIC was called upon by both the Mayor's staff as well as senior clergy from Congregation Emanuel and the Episcopal Diocese/Grace Cathedral to extend invitations to key religious leaders to participate at the primary City Hall religious leaders briefing, civic rally, as well at interfaith services at those two anchor houses of worship. The Council's vast communication network was utilized to promote these events and keep its constituency apprised of precautions being taken to ensure public safety. These collective efforts resulted in the impactful presence of San Francisco's religious leaders and their congregants at key civic and interfaith response gatherings.
Related Links:
Faith Leaders Convening with Assemblymember David Chiu
​At the request of Assemblymember David Chiu, the San Francisco Interfaith Council convened a broad cross section of religious leaders and CEOs of our City's faith-based social service agencies for a briefing on his legislative agenda.  Assemblymember Chiu highlighted his signatory bills related to housing, homelessness and immigration, after which he fielded a robust array of questions on a variety of timely and substantive issues. This convening took place on Friday, August 25, 2017 at the First Unitarian Universalist Society of San Francisco.
Interfaith Blessing: Topping Off Celebration of Salesforce Tower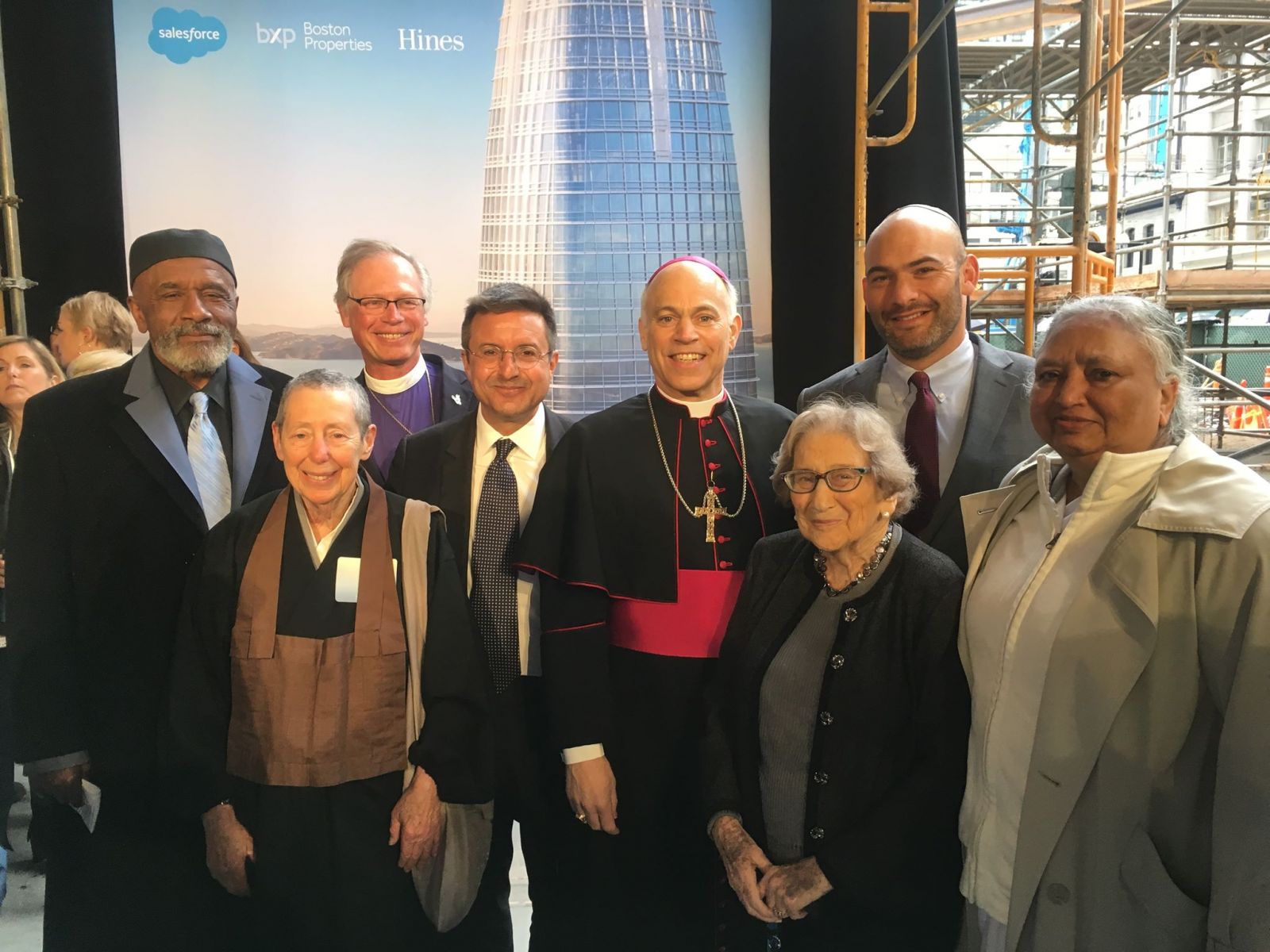 Salesforce CEO Marc Benioff extended the invitation to the SFIC to offer an interfaith blessing on the occasion of the "Topping Off" of the new Salesforce Tower currently under construction. This edifice will be the second tallest structure west of the Mississippi River. On April 6, 2017 six prominent faith leaders offered prayers from their respective traditions. Together, a final blessing for all who undertook this monumental effort as well as for those who will labor and visit the structure was prayed in unison by those clergy. An account of this event and the role played by the SFIC's executive director and constituent leaders may be found in this article published that afternoon by the San Francisco Chronicle.
The SFIC's Engagement with San Francisco Law Enforcement
In recognition of the important role communities of faith play in fostering healthy and constructive neighborhood relationships, the newly appointed Chief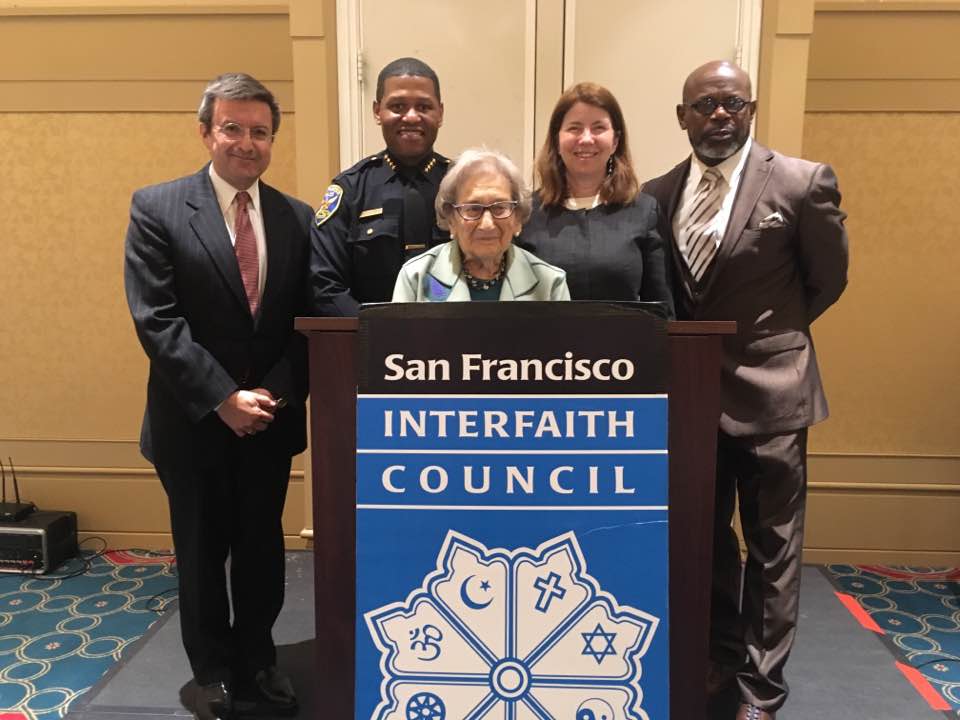 of the San Francisco Police Department, William "Bill" Scott, accepted the SFIC's invitation to address and answer questions of our City's faith leaders. This exchange, which took place on May 5, 2017 at Congregation Emanu-El, was an opportuity for Chief Scott to outline his priorities for SFPD engagement with the community as well as to report on measures the force is taking in response to the currently issued Department of Justice report. For SFIC invitation to this briefing please visit: Special Briefing.
Most recently, SFPD Chief William Scott invited Pappas, as a community leader and subject matter expert, to join the department as an external senior advisor to offer external perspectives on best practices in strategic planning and policy trends. More specifically, the work of this team will focus on the SFPD's multi-year process with the U.S. Department of Justice called the "Collaborative Reform Initiative" (CRI). The CRI mandates over 270 individual changes to the SFPD and how it operates.
Collaboration with the San Francisco Municipal Transportation Agency (SFMTA)
As San Francisco braces itself for a significant increase in residential and corporate building, the impact new structures and increased inhabitants will have on our City's transit system is a growing concern. Over the past three years, The San Francisco Municipal Transportation Agency (SFMTA), in collaboration with the SFIC, has engaged congregations along the Dolores/Guerrero Streets corridor to help address issues related to median parking in that neighborhood. As a result of those efforts, the SFMTA Board of Directors recently voted to institute a pilot study along that corridor. Recognizing the SFIC's role as advocate for its constituent congregations, the Director of the SFMTA has initiated a regular, bi-monthly "check-in" with the SFIC Executive Director regarding the impact of SFMTA policies on faith communities throughout the City.
Convener of the "SF Interfaith Essential Housing Task Force"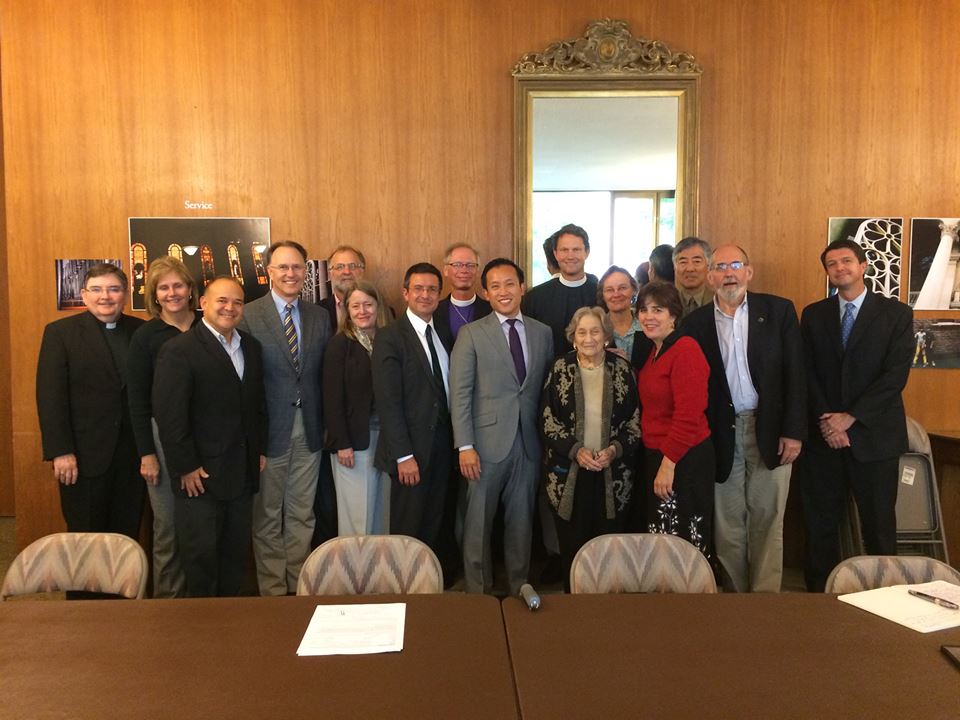 With the growing scarcity of housing and skyrocketing rents, low paid/middle income workers who provide essential services for the City are leaving San Francisco. By developing religious institutions' underutilized parcels for affordable rental housing, our faith communities will help stop the outmigration of our essential services workers.
The SFIC convened the City's key religious leaders and the CEOs of the major faith-based social service agencies on September 11, 2014, for the purpose of developing a response to income inequality and the local housing affordability crisis. At that meeting, the group decided to form the "SF Interfaith Essential Housing Task Force." The Task Force agreed to work with the City to identify parcels of property owned by religious institutions that could be developed for rental housing, using private funding, for low paid workers who provide essential services to the City. These employees work in the fields of health care, social services, education and the arts and public safety.
SF Mayor Ed Lee directed staff in the Mayor's Office of Housing and the SF Office of Economic and Workforce Development to advise the Task Force on its mapping efforts, site recommendations, and funding  strategies and to make introductions to prospective developers. A select number of parcels have been identified and are currently under serious consideration for such development.
In addition, during the 2015 election cycle, the City asked the Task Force to endorse and advocate for passage of a $310 million Housing Affordability General Obligation Bond. Due in part to the Task Force's diligent  efforts, the measure was approved.
Most currently, the real estate consulting team collaborating with the Task Force is both preparing feasibility and financial analyses on the properties under consideration as well as developing realistic funding strategies and options that will make these sites viable prospects for streamlined development.
Immigration Defense Fund
With a dramatic departure from existing immigration policy at the federal level, congregations and religious based non-profits and academic institutions have emerged as leaders in the effort to provide support and services to vulnerable immigrants whose residency status in our nation has been threatened.
On March 2, 2017 Mayor Edwin M. Lee announced that the City and County of San Francisco, in partnership with the SFIC, would launch a new funding program that would provide resources and support to non-profit community-based organizations serving immigrant communities. The SFIC identified as key priorities for the distribution of funds, those institutions whose missions and activities include: 1) protective and legal services; 2) workshops and trainings; and 3) support for those young people registered in the Deferred Action for Childhood Arrivals (DACA) program. The full text of this communique may be found by visiting: Press Release
Additionally, the SFIC partnered with key non-profits in co-sponsoring the following panels and forums:
Most recently, SFIC Executive Director Michael Pappas was invited to join Mayor Edwin M. Lee, civic leaders, community partners and DACA recipients at a press briefing on September 5, 2017 to express concern over the discontinuation of the Federal DACA Program. The consequence of this action will be to place in jeopardy the future of over 800,000 young people who voluntarily disclosed their immigration status with the hope and promise of security and a pathway to full citizenship. Please visit: Communities of Faith Respond to DACA Decision
Commonwealth Club of California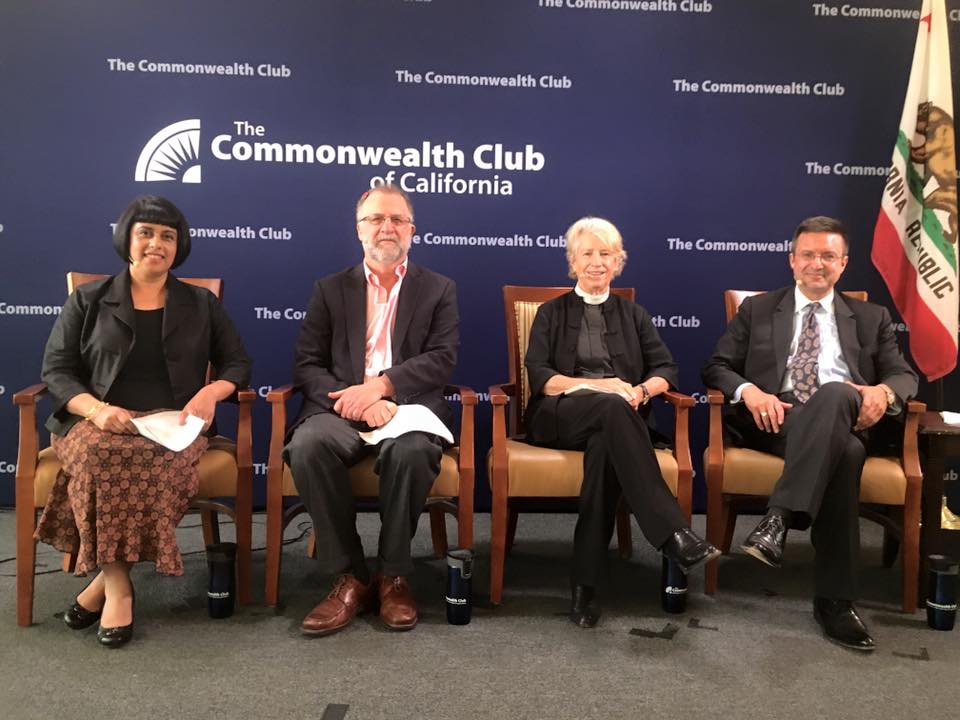 The SFIC's Executive Director has moderated several panels for the Commonwealth Club's Middle East Forum. In February 2016, Michael Pappas moderated a presentation by human rights activist and author, Rebecca Tinsley, who talked about a project, "Waging Peace: Why Genocide Keeps Happening," which started after visiting a Darfur refugee camp at the height of the killing there. In August 2016 Pappas moderated a panel of representatives of the Abrahamic faiths as they discussed their views on protecting the earth, caring for the environment, and combatting climate change. On December 15, 2017, Pappas is scheduled to moderate a presentation that will feature the critical work of founder and CEO of "Roots of Peace," Heidi Kuhn, who for 20 years, has worked tirelessly to eradicate landmines worldwide. All Commonwealth Club video and audio podcasts where the SFIC has been the moderator can be accessed here.