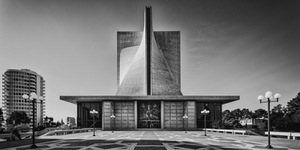 Cathedral of St. Mary of the Assumption
45th Anniversary Gala
Please join us for a celebratory evening featuring
5:15 PM   Evening Prayer
6:00 PM   Elegant Cocktail Reception followed by Banquet Dinner
Special Performance by Franc D'Ambrosio
Franc D'Ambrosio is best known for his impressive portrayal of the "Phantom" in Andrew Lloyd Webber's Tony Award winning musical, The Phantom Of The Opera.  Affectionately known as Phantom's "Iron Man of the Mask," Franc D'Ambrosio earned the distinction of being the "World's Longest Running Phantom."  This accomplishment was immortalized in a cemented hand ceremony.  Franc retained this title for over a decade.
Black Tie Optional/Traditional Dress Event
Cathedral Event Center
For more Information/Reservations: 415-567-2020 Ext. 215
All proceeds will benefit restoration, upkeep and ministries of the
Cathedral of Saint Mary of the Assumption.
Phone Number
415-567-2020 Ext. 215
Links